Upcycling is a really big hobby for many people these days. Part of that is due to the years of living under a difficult economy during the financial crisis. But for others, it is just a fun interest they have always enjoyed and continue to do so. There are certainly a lot of blogs and social media posts dedicated to the practice, and thanks to Macklemore, second hand shops are more popular than ever. At least some of what is bought there is sure to end up as part of a project.
To get tips on how to upcycle, such as projects involving kitchen d?cor, sometimes it is best just to look at what people have already made. Here are ten tips from upcycled items around the web, all having to do with kitchens.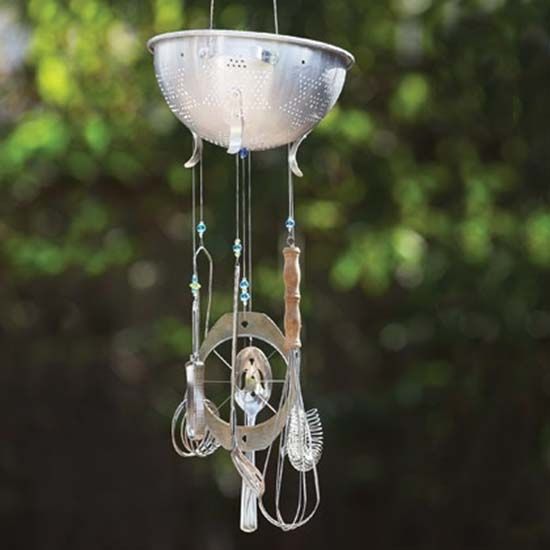 This project shows clearly than not all kitchen upcycling has to be confined to a single room. They have created super cute wind chimes out of some very simple materials that many of us have to replace every once in awhile. I love the added color in the beads dangling, as well. It gives it a little something extra.
A lot of kitchens and dining rooms have hanging lights. When the cover breaks they can be a serious pain to replace, costing hundreds of dollars for an attractive and high quality one. I like this, as it takes simple materials and makes something all the more interesting. While I would keep the colander and the hanging beads, I would probably skip the utensils for a classier look. But anything could replace them.
Another cool idea for an upcycled chandelier:
Mason Jar Chandelier with Solar Lights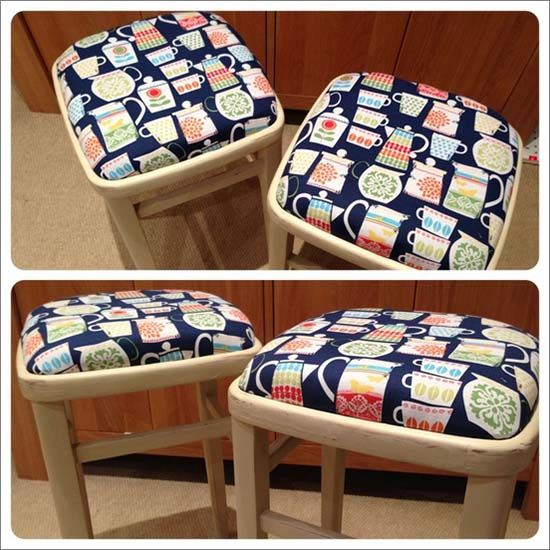 Stools are great because they are so easy to refurbish. Any fabric could be used, but I love what they did with these ones. They remind me of something that would be in a quaint little eatery. They definitely have a retro look to them, which fans of older styles will appreciate.
Chalkboards are always cool looking, and perfect for kitchens. Write up recipes, shopping lists, reminders, phone numbers and anything else you might like. They are also easy to make, needing only a little bit of chalkboard paint and any smooth surface. I have seen people make them out of old cutting boards, pizza boards and even right onto the fridge. Sometimes the best upcycling projects are the easiest.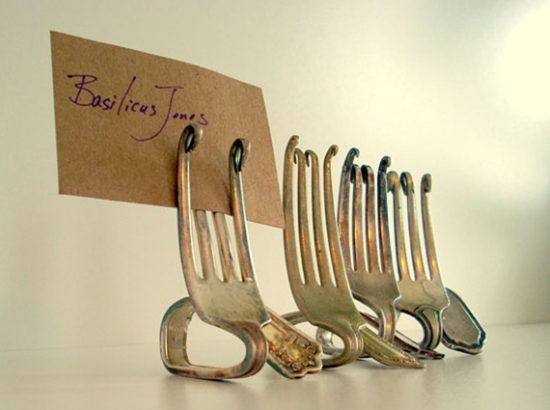 Take a fork, bend it into a new shape and call it art. Why not? It may sound a bit to easy, but you obviously haven't seen these awesome pieces that use nothing but old silverware. Bent into something entirely new, some of them are really cool and complex. You can make your own and decorate your whole home. You may want to check out Kylie's
list
for more Pinterest upcycling inspiration.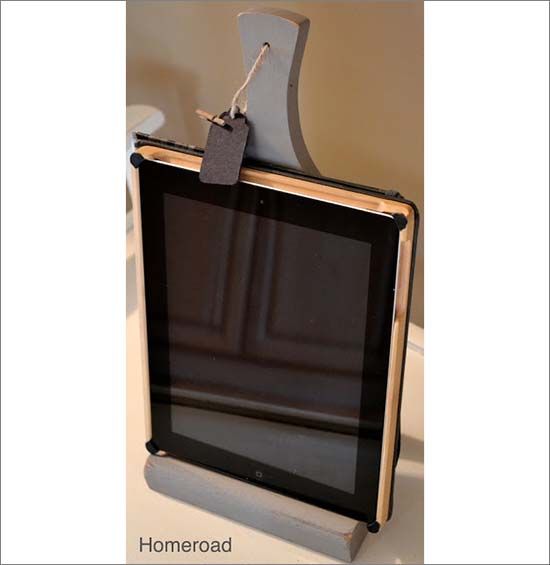 An iPad stand for the kitchen? Why not? What I love about this is that it is so practical. I use my tablet for a lot of kitchen uses, such as creating shopping lists and especially cooking. I love having my tablet with a new recipe to try, without having to write it down, print it up or squint to view it on my phone.
Have some old records laying around? I know, you don't want to reveal your age. But admit it, you have a few. Why not turn them into a cool cake stand? While you would want to wait until the cakes had cooled (vinyl melts very easily), this is a really cool idea. Especially for an event that has a vintage feel. It could also work for piece, cupcakes, and anything else that needed to be served. In fact, I think it would be better for smaller items like tarts than it would be for cakes.
An old toolbox becomes a nifty kitchen shelf complete with hangers for mugs in this project. While a lot of people like the rundown look displayed here, I have to admit I have never been a fan. But throw on a new paint of coat, give it a bit of a glossy cover and you are in business. Given what it has been made to hold, it could support quite a bit of weight, as well.
I love his cute little island. A lot of people have been using old cupboards for this purpose lately, and I think I is a great idea for both more cupboard space, and just more counter top space. Of course, it wouldn't be so well suited for a smaller kitchen, but it could always be placed to the side instead of in the center for the same uses.
This is really cool. It is an entire kitchen that has been upcycled, including the unique stools sitting there at the side of the counter. You don't have to think small with these projects. You can think big and end up with something entirely new.
Have some upcycled kitchen decor to show off? Let us know in the comments.