I have so many glass jars! Seriously, I have an entire cupboard full of them, most of them from old food items like pasta sauce, salsa and olives. I don't know what to do with them and I never have. While I recycle, my local place doesn't take glassware and I would have to go clear into another county to get rid of them. Which isn't exactly eco friendly when you consider the driving involved to get three hours out of town to the nearly recycling facility that takes glass.
As a result, I tend to take a fair number of them to reuse as water glasses. You know, the big ones you put on the bedside table to combat the effects of winter dryness, and all that. A couple of others have been filled and used as vases, though fresh flowers aren't much of an option now that winter has arrived. My kids have even each used one for their 'rewards jar', which they take a prize from at the end of each week as an allowance for doing their chores.
I have run out of ideas on what to do with these multiplying menaces. I learned how to make my own sauce and salsa in order to avoid acquiring anymore. But what to do with the few dozen still crammed into a cupboard in my kitchen...I could use the space!
This past weekend I sat down and started to really search out things to do with them. The holidays are just around the corner, so it seems like a good time to put them to use. I was relieved to find many struggle with this question, and some pretty cool ideas have come out of upcycling needs. As you would expect, a whole lot of these people had gathered on Pinterest. Man, I love that site.
Here are five of my favorites glass jar upcycling ideas for Christmas (psst: Don't forget to check out our previous glass jar DIY projects:
DIY Glass Jar Lanterns
and
DIY Sun Jars
).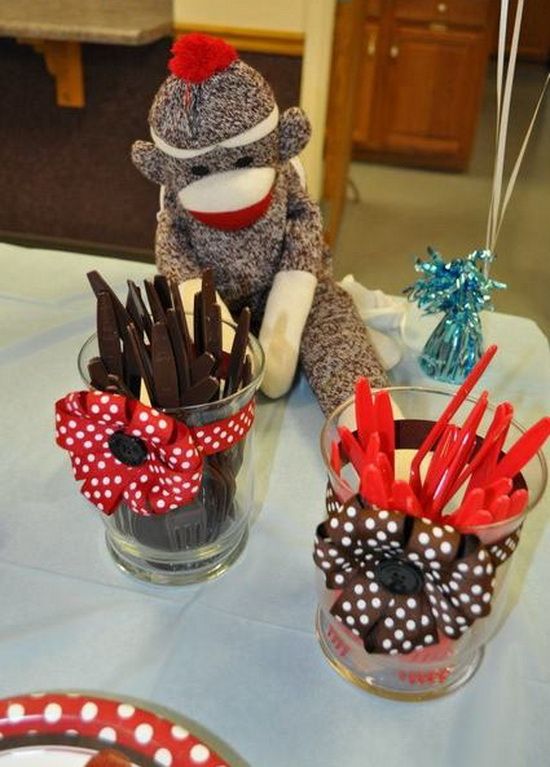 You are probably going to be having a few parties for friends and family for Christmas and New Year's. This is a great way to have a more festive setup than dumping your utensils on the table in a pile for people to grab. Some red and green ribbons, a bit of paint, some hot glue and you have yourself a great centerpiece that is also functional. I am planning on making my own, but creating a stuffed snowman and reindeer to hug around the rim of each. Maybe a Santa, if I get the time.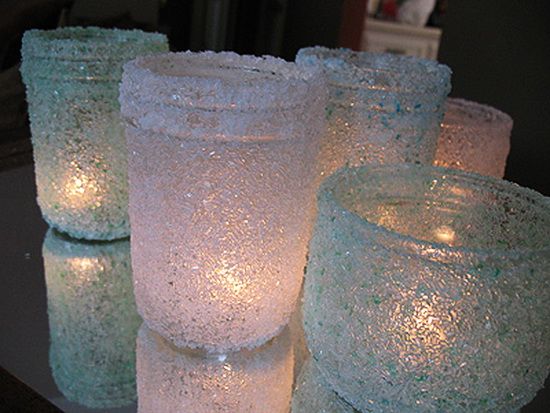 I never would have considered using Epsom salt for any kind of craft project. But these changed my mind in a big way, and I think they are absolutely stunning. They simply added an adhesive and then rolled the jars in the salt. It created a crystallized look, which they changed up using different colored salts that had been lightly tinted. They just used food coloring, which would be easy to control or mix to get different shades. The only negative I would think might come from these is the salt itself.
Every time you handled it you would get salt on your fingers. Which isn't a major problem, and maybe you could get past that if you used some kind of spray seal? I am not sure, but I think the look makes them worth salty fingers.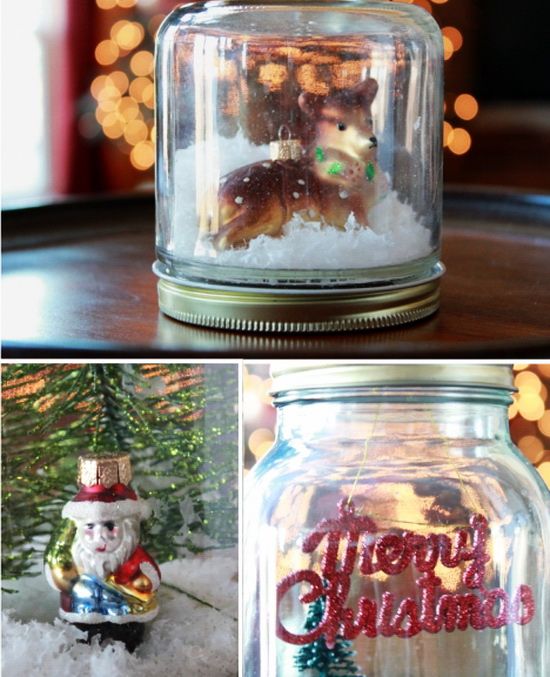 This is such a cute idea. You just use little figures, fake snow and some fluff to make a snow "globe" in a jar. It looks like these were done using the original lids, which I never keep. My guess is you should be able to buy fitting lids at any grocery store in the canning or baking aisle. They usually have different sizes, though most are standard. As for the figures inside, I have found a lot of things like that at my local second hand shop. Ebay would be another good place to look. I know I have this old Santa clause figure that used to be on the base of a music box, but it has long since ceased to work. I am going to break him off and reuse him for a globe of my own.
Here is another good one using Epsom salt, but this time inside of the jar. Fill the bottom with the salt to look a bit like snow. Then pop in a votive candle. They show it sitting outside, and I guess you could do that. Though if you live in an area like mine you will already have real snow on the ground and your guests are unlikely to spend much time out of doors. I think these would look nice around the home during a party, kind of giving off an intimate feel. Maybe with a Christmas ribbon tied around the outside.
While this is similar to the snow globe idea, it gives it a little twist. Instead of one meant to move when you shake it, you can have a stationary version with a winter diorama. I love the look of this, it appears so peaceful. You could easily make trees from any plastic foliage, it would just need a bit of frost spray, or white paint and glitter. Very cute, and the use of an old candle jar with a lid was a nice touch, while also making it easier to repair if something fell.
Do you know of any cool Christmas upcycling ideas for old glass jars or candles? Let us know in the comments!