Everyone should have a good piece of luggage, even if they only travel occasionally. But what happens when you no longer need a particular set? Maybe you got something new, or you went a little suitcase crazy and picked up too many at a second hand shop. Or you might just have worn it through and need to do something with the old luggage.
Don't be so quick to throw it out. Instead, check out these awesome and creative upcycling ideas for old suitcases.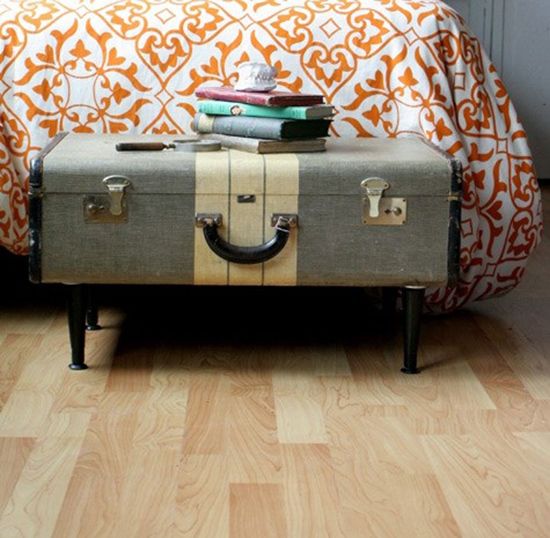 This cute little ottoman was made adding on a few legs. What makes this such a great idea is the fact that a suitcase automatically provides plenty of storage. This is perfect for keeping a living room organized, holding magazines, books, blankets or anything else you might not want out in the open.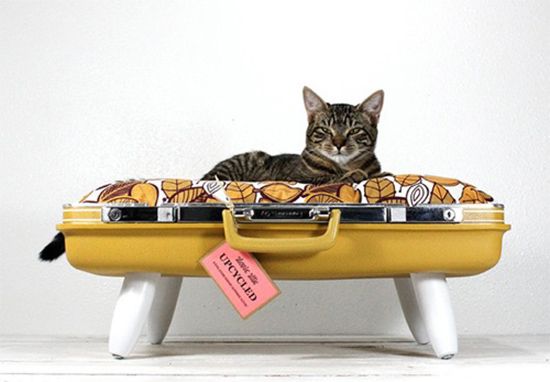 Fido needs a new place to sleep! There are a ton of examples of pet beds that have been made with old suitcases, but this is my favorite. It is just so retro, due to the chosen fabric. I have seen some others that have a step up, as well.
This is probably the most creative use I have found for old suitcases yet. They have created a boom box, with several speakers and the actual stereo contained within. This is a hipster and retro lovers dream, to be sure. There are some various DIY how-to's on the web for portable audio projects that would help you to make one of your own.
The owner of this case used it for collage materials. But it could be used for any kind of craft case, including a sewing kit. A large piece of luggage could even hold a sewing machine, albeit a small one. If your suitcase comes with straps, that will allow you to make more compartments for different items.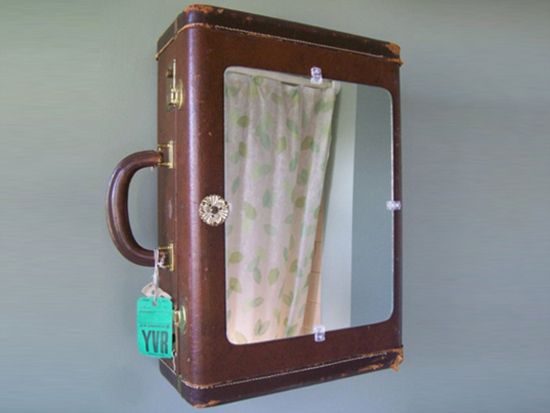 I don't see medicine cabinets that often these days. But I saw this idea and loved it. Especially the mirror that has been attached to the front. Just be sure you secure it all properly, because a few two many personal care products could send it crashing to the ground.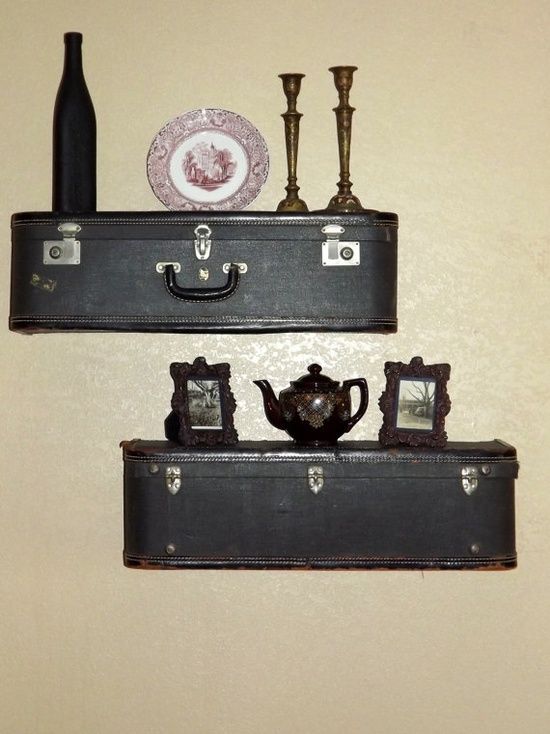 Another innovative storage idea, these cases could work with any number of styles, including old instrument cases. You can put things in them and on top of them, giving you more space to keep valuables. Plus, it looks really cool.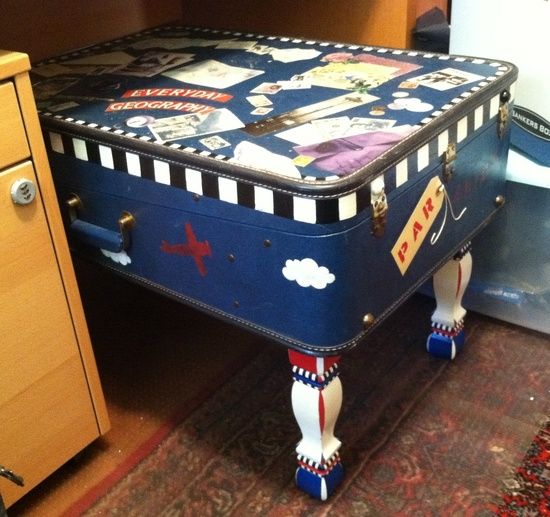 I love the cute colors on this. It makes a great coffee table, though it would work well for a patio table, as well. Suitcases are fairly easy to seal and waterproof, so you don't have to worry about moisture. Though keeping it under a roof when it rains is still a good idea.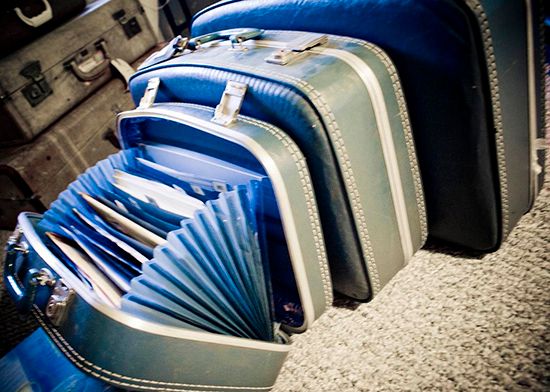 Have a lot of files, but hate the metal bulk of a traditional filing cabinet? Now you can pack away your papers anywhere, with this cool idea of using luggage to hold it all. Attaching the folders would be simple enough, and cheap. It is a good way to use those smaller pieces of luggage that might be too big to hang up, but too small for other upcycling purposes.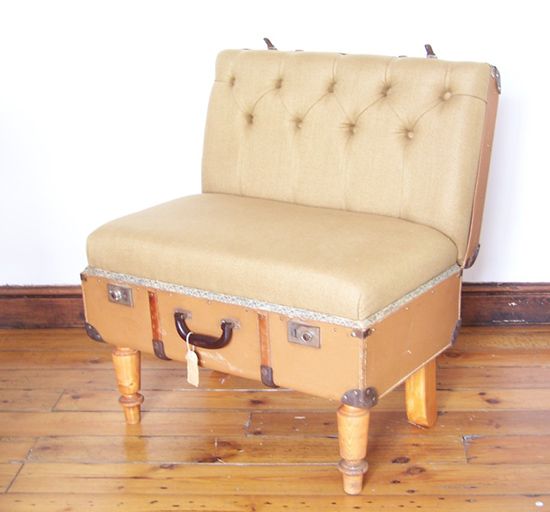 There are quite a few chairs made from suitcases on the web. This one is for sale, but it shows what a little innovation can do if you choose to make your own. They have reinforced the inside with steel to make it easy to sit on without buckling. But the outside is elegant and creative.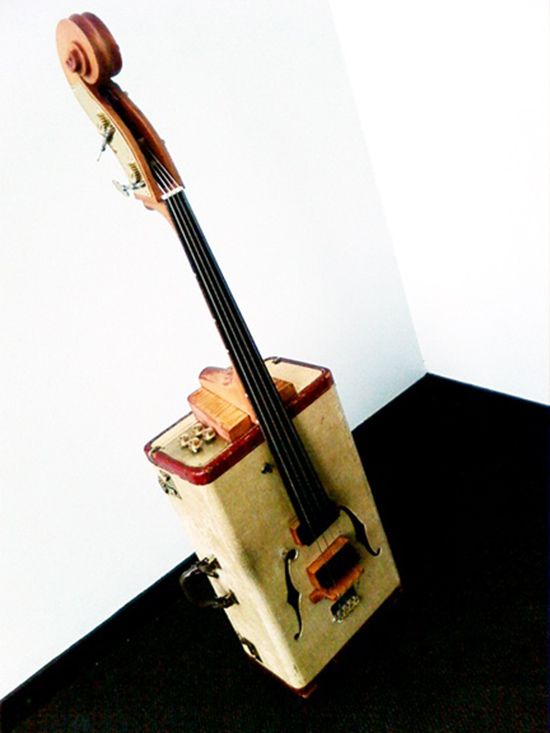 I have no idea how this would sound to play, but the idea is awesome. Create a base guitar out of luggage, and have the most unique instrument on the block. Musicians will have to clue me in: would this work for actually playing, or just decoration?
Have some cool examples of upcycles suitcases? Maybe an idea of what else you could make? Let us know in the comments.