There are a lot of cribs out there these days that act as a full sleep system. They go from a crib to a toddler bed, and sometimes even to a base for a full twin later on. But not all of them do this, or live long enough to make it into all three incarnations.
I know both of my kids brother their cribs long before they could become even a toddler bed. Which should tell you something about my children.
For those leftover pieces, you might not know what to do with them. If the crib is intact you can always try and sell it, or maybe offer it in freecycle. But most are leery about taking a used crib, especially with all the recalls to hit the baby industry in recent years. You may not have as much success as you hope for.
Instead, why not get creative? Pinterest, home of all things DIY, has a ton of awesome ideas for upcycling cribs. Stylish, interesting and functional additions to your home are just a project away.
You could do a lot with this idea, because it is entirely based around your personal tastes for decor and art. I like the concept of converting the grip springs into a canvas board, because it is light weight and yet would easily hold different items. You could probably come up with some other ways based on this principle.
Chalkboard paint is incredibly cheap, usually sold at around $7 - $8 per 8 ounces. Put together the sides of the crib, attach them securely with some joints and paint either side with the paint, and you have a very simple chalkboard easel for your kids to play with. You could also do this with a dry erase style paint, using one of the many kits you can find online. But I have heard that these don't work as effectively, and many will actually 'get old', making the dry erase markers permanent. The shelf life of these kits is very short, about a couple of years, and it isn't easy to tell how old some are thanks to improper labeling. So I would suggest sticking with the much more reliable chalkboard variety.
I think this could be used for any number of storage items, as long as you kept in mind the weight. I am thinking of using the same idea for my bathroom, to keep track of cosmetic and hygiene items. But crafters should like the way this person has created their own version, especially thanks to the organization of it all. A metal one might be harder to do this with, but not impossible.
Here is another use for the chalkboard paint, which they have used for the table itself to allow the kids to draw directly on it. The height makes it perfect for younger children who want their own space to create. It also looks a lot more complicated than it actually is to make, as you can see how they managed to convert it. The hooks on the back are a nice little touch.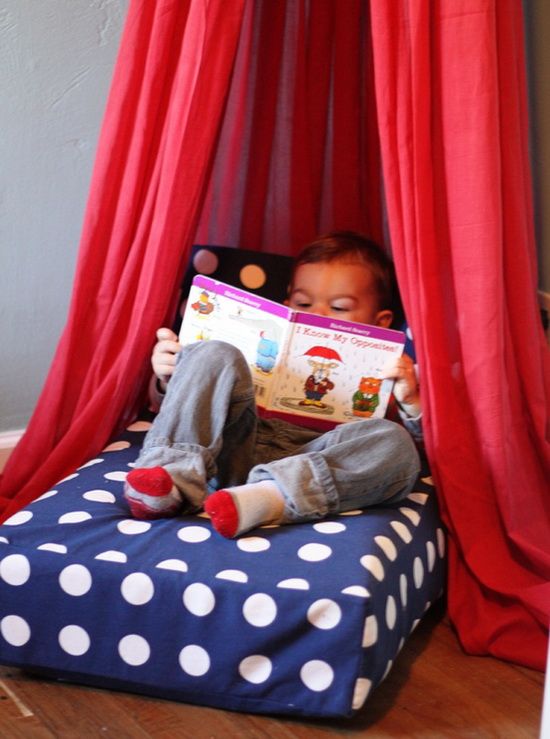 here are a few reading nooks on Pinterest made form cribs, most of which require a bit of rebuilding using the crib itself as materials. Which is great if you are into that kind of thing, and a quick search on the site for 'crib reading nook' will lead you to examples. But I like this one because it is so incredibly simple and obviously comfortable for any kid. It just takes the old crib mattress, adds a curtain to drape over the top, and you have an enclosed space your little one can use to enjoy their book. I actually ended up doing this myself, more or less, after giving my kids their new bunk beds. I took the doors off of their closet (which they never used for anything but storage), cleared it out and used the crib mattress to make a simple reading area. Complete with a hanging closet space saver that we put books in. They love it, and it required next to no work.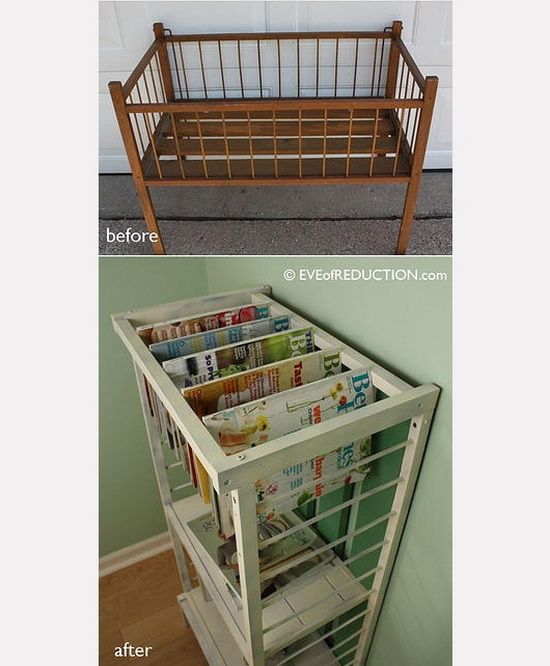 Again, this one will take more effort than most to pull off because you are directly removing all the materials from the crib and rebuilding it. But it definitely looks cool, and if you have the skill you could come up with something quite nice for your home. For those who want a simpler idea, I can picture hanging one of the sides vertically on a wall and putting the magazines into the slots. Which would also save space, but it depends on how far apart those slots are, and how large
Another harder to create idea that is really cute. You could use any kind of table top you might enjoy for it, as well. The storage it creates would make it ideal for an area like a living room or hallway, but probably not great for something like a computer. Not with the lack of space underneath for your legs. I personally think it would make a nice television stand, with space under for things like consoles.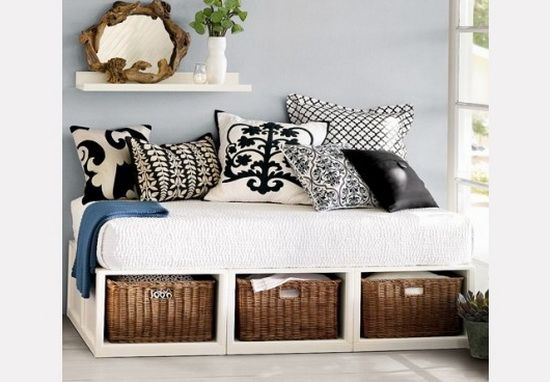 A lovely seat by a window is always a nice addition to any home. It just looks friendly while being a relaxing place to settle down. My own window seat is my favorite place in the house, and where I do most of my reading. This one is super cute, using a crib mattress as a cushion. Which is the perfect size, a benefit I wouldn't have considered. It also has the added storage thing, with those little wicker drawers. All you would need are some sturdy stacking drawers you can find at almost any decor store.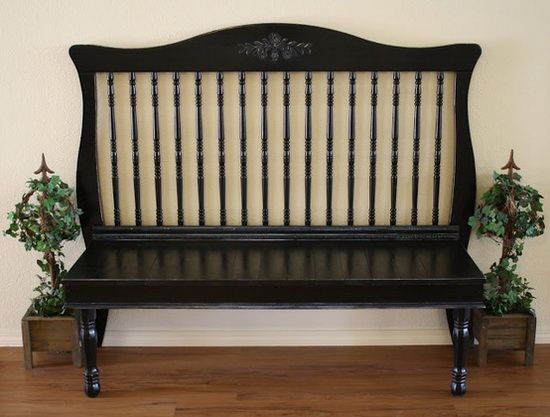 This is gorgeous, and I was surprised to find it. It uses the back of a crib to make a classic and elegant bench, fixed to a sturdy base and attractive legs. Of course, this would take a lot of skill to make. But anyone who has experience in carpentry or furniture making could probably pull it off. That engraving at the top, a popular feature of higher end cribs, translates really well to this type of seating.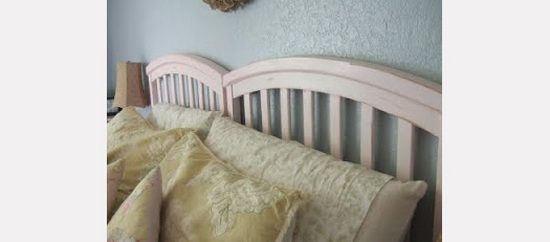 If all else fails, use it for another bed! They have taken both sides of the crib and put them side by side for a nice looking headboard to a larger bed. This could work for most queen sized beds, I should think, but probably not for something as large as a king. A single side could go well on a twin, so great for matching beds for more than one child.
Do you have any ideas you want to share with our other readers for upcycling cribs? Let us know in the comments!